Penn State Football Coach Drops F-Bomb On Live TV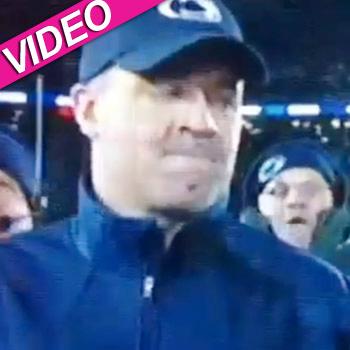 Penn State's new football coach Bill O'Brien began his own path towards infamy by dropping the F-bomb on live TV Saturday.
After his team won a dramatic overtime victory over Wisconsin, O'Brien was asked by ESPN's female sideline reporter how he'd gotten his team up for the game.
Without hesitation, O'Brien proudly replied, "They're a bunch of f**kers," and didn't look the slightest bit embarrassed by the gaff.
Article continues below advertisement
O'Brien replaced disgraced Joe Paterno, who died in January, as PSU's football coach in what many expected to be a lost season in Happy Valley.
Instead, in the face of the ongoing Jerry Sandusky child sex abuse scandal -- the university's former president has now been indicted and a number of players left the school for other colleges -- O'Brien has led his f**kers to an 8 -4 record.