Penn Jillette On 'Celebrity Apprentice': Would Have 'Preferred Waterboarding' To Talking With Clay Aiken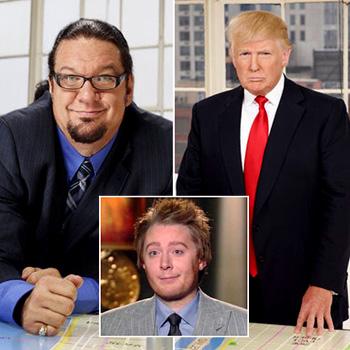 Penn Jillette has penned a scandalous -- and riotous -- look at his time on The Celebrity Apprentice, and fellow contestant Clay Aiken isn't going to be happy!
Jillette, one half of the hugely popular illusionist act, Penn & Teller, appeared on the Donald Trump reality show earlier this year, and it sounds like he'll never get over having to spend time with American Idol has been Aiken.
Article continues below advertisement
"One day while shooting, I'd had a heart-to-heart talk with Clay Aiken. I would have preferred waterboarding. I don't like heart-to-heart talks with anyone, but Clay Aiken? Strap me to the board, and put the wet towels over my face. Drowning sounds nice," Jillette writes in Salon.
"Clay spent over an hour and a half of his time, and wasted much more than that of mine, having a heart-to-heart with me over how he, Clay Aiken, thought I should treat Lou Ferrigno. He wasn't talking about how Clay Aiken thought I should treat Clay Aiken, about which I would have had to work hard to give a flying f**k. Clay was talking to me about how he, Clay Aiken, thought I should treat the guy who played a cartoon character painted green, decades ago. If you've gotten yourself into a situation when Clay Aiken is going to talk about his feelings with you, it's time to kill yourself," writes the magician.