Celebrity Apprentice: Who Was Fired?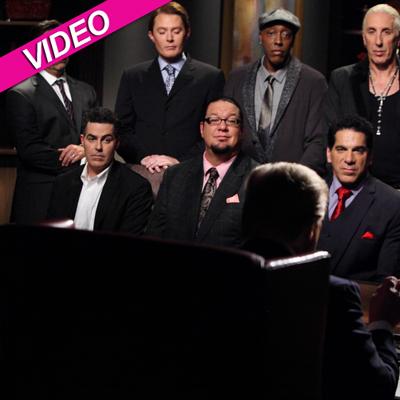 The fifth season of Celebrity Apprentice aired on NBC Sunday, and another celebrity was sent home.
Click here to find out who The Donald fired Sunday!
Donald Trump let comic Penn Jillette go on Sunday night's episode.
Here's how it all went down: the task was to devise an ad campaign and display for The Donald's new cologne, Success By Trump.
Aubrey O'Day took the reigns for Team Unanimous and aggressively commandeered the project, dubbing herself "a mini-Trump."
Article continues below advertisement
She said, "I was the one that came up with everything," irking partners Teresa Giudice and Arsenio Hall in the process.
Penn's biggest mistake for his Team Forte was the slogan he came up with for the campaign: "You Earned It."
"Brainstorming is more fun when you have good ideas," Penn said, "and I thought I did."
The project ended with a photo finish, as Trump liked both, but chose Team Unanimous, leaving Jillette, project manager Clay Aiken, Lisa Lampanelli and Dayana Mendoza on the chopping block.
"I'd love to fire Dayana. You know why?" Trump said. "She's been on the losing side six times. But I'm not so sure she should be here."
Despite his intuition, Trump handed Penn a pink slip.
"The executives hated -- hated -- the slogan," Trump told him, before lowering the boom. "You're fired because you came up with the slogan … get out of here ... great job Penn, really good."
Article continues below advertisement
The remaining stars in the running for this year's crown are, in alphabetical order: Aiken, Giudice, Hall, O'Day, Lampanelli and Mendoza.
Past winners of the competition, which is played for charity, include talk show host Piers Morgan, legendary comic Joan Rivers, Poison frontman Bret Michaels and country singer John Rich.
Celebrity Apprentice airs Sunday on NBC at 9/8c.
RELATED STORIES: