Exclusive
'It's Just A Horror Story,' Reveals Grandmother Of Children Allegedly Murdered By Nanny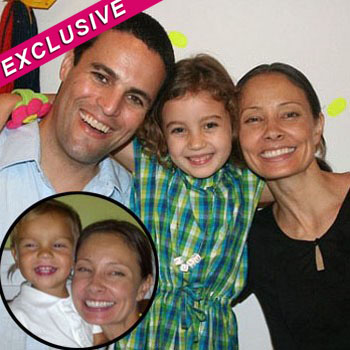 By Debbie Emery - Radar Reporter
As accused nanny killer Yoselyn Ortega attempts to paint her former employee in a bad light in a crazed attempt to justify allegedly murdering her children, RadarOnline.com spoke exclusively to a family member regarding the devastating ordeal that they have endured.
"It's just a horror story," Karen Krim, told RadarOnline.com in an exclusive interview on Wednesday from her home in Camarillo, Calif. "I was their grandmother. It is really horrible."
Article continues below advertisement
As RadarOnline.com previously reported, Kevin and Marina Krim are desperately trying to come to terms with the horrific slayings of their two-year-old son Leo and daughter, Lucia, six, who were found by their mother stabbed to death in a bathtub in their Manhattan apartment on October 25.
"Under the circumstances, we are all doing as well as can be expected," the children's paternal grandma revealed, as she explained that the immediate family are not making further comments and want to keep their privacy.
When interviewed by police on Saturday at the New York-Presbyterian/Weill Cornell Medical Center, suspect 50-year-old Ortega "implied there was a lot of strain between she and Marina in the days leading up to the murders," a law enforcement source told Radar. "The detectives were amazed at how cavalier Yoselyn was during parts of her interrogation."
The Dominican Republic native has been charged with two counts each of first and second degree murder in the slayings.
Article continues below advertisement
"The detectives aren't buying the nanny's story because it just doesn't line up with interviews they have conducted with other people as part of the investigation," the source says. "Marina was and is a very loving mother, who went out of her way to make Yoselyn feel like a part of the family."
Meanwhile, as previously reported, hundreds of black-clad mourners gathered in New York City on Monday to remember the two children.
The emotional memorial service was held at Avery Hall, where the Krims said goodbye to their beloved babies and joined with loved ones to "celebrate the beautiful lives," reported the New York Daily News.
"It is important to us that they are remembered as the sweet, creative, and fun-loving children they were," the parents said in a statement.
RELATED STORIES:
Accused Nanny Killer Trying To Paint Mother Of Slain Kids In Negative Light To Cops