Exclusive
Monkey Attack! General Hospital Star's Wife Bitten At Her Birthday Party!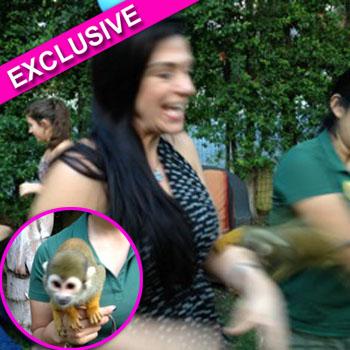 Article continues below advertisement
"It happened so fast that at first I did not know what happened. Everyone was looking at me in shock and I realized that the monkey had jumped about 5 feet and landed on me," Michele told RadarOnline.com. "It felt like a bee sting and then I realized the monkey was biting me! After the initial shock, I could laugh about it. It is a birthday I will certainly never forget," she added.
Her friends won't forget it either.
"Everyone was gathered in the backyard around the animal handler and monkey when all of the sudden the monkey jumped out of the handlers arms and attacked the birthday girl, biting her on the arm!" Michele's friend told us.
"The monkey was about to bite her again when the handler got a hold of the monkey and stopped it from hurting her anymore!"
The birthday girl was shocked about the crazy scene, but she wasn't hurt by the bite.