Exclusive
Mitt Romney Is Not Honest & Can't Be Trusted, Says October Surprise Wife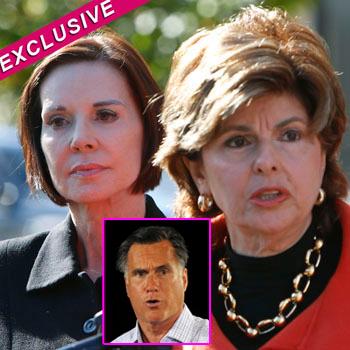 By Jen Heger - RadarOnline.com Assistant Managing Editor
Maureen Stemberg, the woman at the heart of Gloria Allred's Mitt Romney 'October surprise' is slamming the GOP presidential hopeful, claiming he is not honest and can't be trusted, RadarOnline.com is exclusively reporting.
"I do not support former Governor Mitt Romney for the presidency of the United States," Stemberg said in a statement released by her attorney, Gloria Allred. "There were numerous times where I personally interacted with Mitt Romney and his family on ski trips in Utah and on other occasions. I knew him personally. Mitt Romney knew that I was a single mother and that I had significant health problems and other challenges Mitt Romney never seemed to care about me and my situation. Based on my interactions with him I also have good reasons not to trust him and I feel that he is not honest."
Article continues below advertisement
As RadarOnline.com previously reported, the founder of Staples, who spoke on behalf of Romney at the Republican National Convention in Tampa Bay, Florida this past summer, was involved in bitter divorce proceedings with Maureen for decades. Mitt Romney's hedge fund, Bain Capital, was an early investor of Staples. The Boston Globe went to court several weeks ago to ask a judge to release Governor Romney's sworn testimony that he gave in his good friend's divorce from Maureen. The judge allowed the deposition to be released and Romney's camp didn't object to the request by the Boston Globe.
Even though Maureen's ex will be voting for Mitt Romney, she is supporting President Barack Obama.
"Because of Mitt Romney's callous attitude towards me I urge everyone not to vote for him. I will be casting my vote not for Governor Romney, but instead for President Barack Obama whom I believe cares about single moms and understands them in a way that Mitt Romney does not and never will."
RELATED STORIES: