Exclusive
Underage iCarly Teen Miranda Cosgrove Given Star Treatment At Club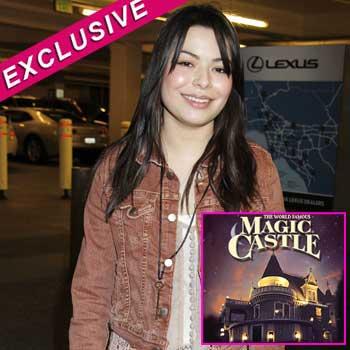 Miranda Cosgrove worked her magic, quite literally, Friday night and gained access to The Magic Castle, a private club with a very strict "NO ONE UNDER 21 WILL BE ADMITTED" policy posted both on its website and at the door.
The 19-year-old Nickelodeon star used her celebrity status to get into the famed club, RadarOnline.com is exclusively reporting.
"Around 11pm a guy arrived to check in his party," an eyewitness told RadarOnline.com. "The hostess asking if all party members were over 21. When he said 'no' she told him nobody under 21 was allowed in.
Article continues below advertisement
"That's when he told her it was Miranda Cosgrove. She pulled up in her Porsche SUV and they let her in."
While Cosgrove - who also has a budding singing career - is not known for her wild partying on the Hollywood social scene she has certainly made an impression as the star of iCarly.
As of May 2010 she earned $180,000 per episode making her the second highest-pair child star on television.
She was also listed in the 2012 edition of Guinness World Records as the Highest Paid Child Actress for her work on the show.
The General Manager at The Magic Castle issued the following statement to RadarOnline.com:
"We do have certain rules for anyone under 21 that we grant permission to enter the building after 5:00 p.m. The underage guest must wear a button and wrist band, which Ms. Cosgrove gladly did, signifying the individual being a minor. We did not break any of our standing rules associated with Ms. Cosgrove's visit, and she never used her Hollywood celebrity to gain access into the club.
Article continues below advertisement