Matthew McConaughey Looks Deathly, First Day Of Shooting AIDS Movie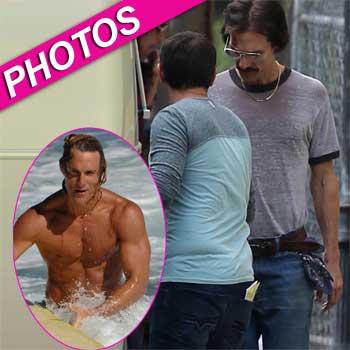 With his stunning weight loss and in his make-up including a gruesome sore on his forehead, Matthew McConaughey looked like a character near death for his first day on the set of his new AIDS-themed movie.
McConaughey began work Sunday on The Dallas Buyers Club, based on the true story of Ron Woodruff, a drug-using straight man who was diagnosed with full-blown AIDS in 1986 and fought the government and the U.S. pharmaceutical industry to get access to anti-viral drugs being used against HIV in other countries.
Article continues below advertisement
McConaughey lost 30 pounds for the role, and also stayed out of the sun so that his skin would become a sickly pale.
The scenes where Woodruff was at his lowest weight are being shot first. Scenes of Woodruff before he became ill and as he brings himself back from the brink of death, will be shot out of sequence as McConaughey slowly regains his weight and muscle mass.
Jennifer Garner will soon be joining McConaughey on the film' New Orleans location.