Matthew McConaughey's Shocking & Scary Weight Loss! Actor Spotted Looking Skeletal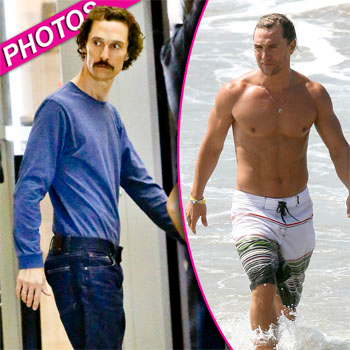 Matthew McConaughey has been looking super skinny lately but these shocking new snaps of the actor obtained by RadarOnline.com show he's practically shriveled away to nothing.
The Bounty Hunter star was spotted at LAX on Friday preparing to catch a flight to New Orleans and he couldn't have looked more different than the ripped surfer god we know and love.
As he passed through security his face was gaunt and pale, his jaw jutted sharply out and his head also seemed too heavy for his mega thin body.
Article continues below advertisement
McConaughey was sporting a strange brown moustache too and as he turned to the side his shrinking frame was even more accentuated by his baggy clothes and twig-like neck.
McConaughey's drastic weight loss is in preparation for an upcoming movie role as an AIDS patient.
In The Dallas Buyer's Club the 43-year-old plays a "women loving, drug taking, homophobic man" named Ron Woodruff who in 1986 develops full blown AIDS and is told he has 30 days to live.
As previously reported by RadarOnline.com, McConaughey has had to shed a staggering 30 pounds for the role, which could lead to serious health problems later in life.
The expectant dad said on Larry King Now: "I should not look healthy by the time I'm doing this.
"It takes a while for your body to understand that it has to feed off of itself and that you're not going to give it something else from the outside."
Article continues below advertisement
McConaughey, who is married to Brazilian model Camila Alves and already has two children, Levi, 4 and Vida, 2, has also described his weight loss as a "spiritual cleanse with lots of tea."
But medics have warned that if he gains the lost weight back too quickly it could lead to issues with his gallbladder, pancreas and joints.
The Dallas Buyer's Club is set for release in 2013 and also stars Jared Leto and Jennifer Garner.