Calls To Fire Woman Over Obscene Middle Finger Photo Taken At Arlington National Cemetery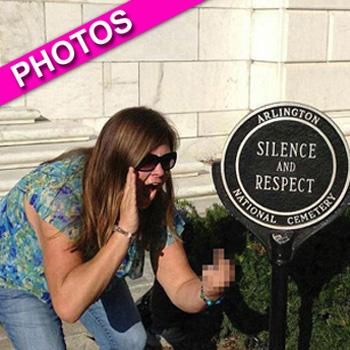 Lindsey Stone called it a "visual pun" but few people are seeing the funny side to a photo she posted on Facebook in which she poses flashing her middle finger at the Tomb of the Unknown Soldier in Arlington National Cemetery.
The Massachusetts resident and her colleague Jamie Schuh, who took the photo at the resting place of hundreds of American veterans, have been put on unpaid leave, and a Facebook campaign has been launched demanding that Stone loses her job.
Article continues below advertisement
The controversy began when the women visited the Arlington National Cemetery with LIFE Inc., the non-profit they both work for. LIFE, which stands for Living Independently Forever, is a Cape Cod organization that supports independent living for adults with learning disabilities.
Stone and Schuh were two of eight workers and 40 LIFE residents that went on the trip back in October. That's when Schuh took a photo of her 30-year-old colleague flashing her middle finger and pretending to shout beside a sign that says "silence and respect."
The picture soon went viral, causing a firestorm of criticism and even the creation of a Facebook page called "Fire Lindsey Stone."
Since the uproar both employees have "been placed on unpaid leave pending the results of an internal investigation," according to a statement released by LIFE.
Meanwhile both women released a joint statement "sincerely" apologizing for posting the picture in the first place.
Article continues below advertisement
They told the Boston Herald: "While posted on a public forum, the picture was intended only for our own amusement. We never meant any disrespect to any of the people nationwide who have served this country and defended our freedom so valiantly.
"It was meant merely as a visual pun, intending to depict the exact opposite of what the sign said…"
Lindsey's father Peter Stone also told the Herald: "I think they were just being funny, which is sad. It's not how she or the family feels by any means."