Katie Holmes Takes Power Nap On The Subway While Hanging On To Suri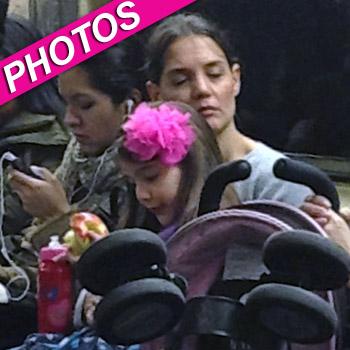 Even with as much help as Katie Holmes has, being a single mom with a full time job can be exhausting, and Katie Holmes showed a bit of that fatigue Sunday morning.
The former Mrs. Tom Cruise -- traveling as she never would when married to the Mission: Impossible star -- was on a New York subway with Suri, and fell asleep!
Katie had a firm grip around Suri, who was wearing a bright pink bow in her hair, on the packed train car.
Article continues below advertisement
Holmes is in previews with the Broadway play, Dead Accounts, doing eight performances a week at the Music Box Theatre. The play opens November 29 for a 16 week run.
The theatre is dark on Sunday, so that's Suri's big day, and mother and daughter were off for some fun together.
As RadarOnline.com reported, Katie' revealed she will be spending Thanksgiving with her family in Ohio.
RELATED STORIES: