Exclusive
Jessica Simpson Wants To Walk Down The Aisle Before Second Baby Is Born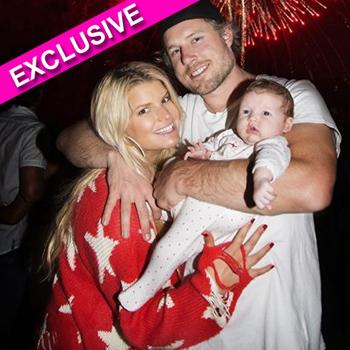 Article continues below advertisement
"Jessica wanted to get married before Christmas and was thinking of a date in December," a source close to the Simpson family told RadarOnline.com.
"But then Cacee set a date with Donald (Faison) for December, her father was caught up in the gay scandal and then she found out she was pregnant.
"Her plans were derailed and the wedding became a secondary detail with everything that was going on in her life.
"However, she still wants to get married soon and is seriously considering marrying Eric before her baby is due.
"Jessica isn't concerned about her baby bump showing in the wedding pictures and feels she has put off her nuptials for far too long.
"Date-wise, she's thinking before next summer, possibly February or March," the insider divulged.
As RadarOnline previously reported Jessica is expecting baby number 2, just seven months after she gave birth to her daughter Maxwell.
Article continues below advertisement
The National Enquirer revealed that Jessica and Eric recently discovered The Dukes of Hazzard star is pregnant again.
Jess gave birth to Maxwell on May 1 and has been over the moon in love with her baby, but the Enquirer says she's nervous about becoming a mother again.
"Jessica is only nine weeks into this pregnancy," a source close to the Simpson family told the Enquirer.
"She's trying to keep it a secret until she makes it safely through her first trimester."