Starving New Yorkers Resort To 'Dumpster Diving' In Desperate Attempt To Find Food In Wake Of Hurricane Sandy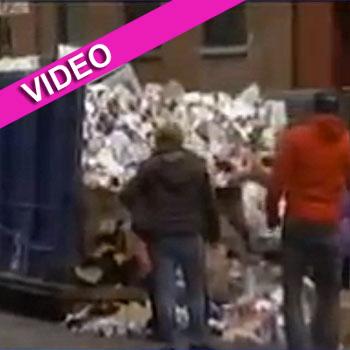 As the death toll officially reaches 98 from Hurricane Sandy, we're seeing heartbreaking images of starving people in New York 'dumpster diving' in a desperate attempt to find food.
In a shocking report, WNBC-TV reporter Jonathan Vigliotti said people are "so hungry they literally pried open this dumpster — you see that door open right now — and they are literally picking through for whatever they can take home with themselves."
Article continues below advertisement
"We've seen everyone here from the elderly, to families with children, literally up on top of this," he added.
Watch the video on RadarOnline.com
Of the nearly 100 now confirmed dead, 40 of those victims are from New York City -- half of them in Staten Island, which was overrun by a wall of water on Monday.
About 4.5 million homes and businesses in 15 US states remain without power, down from a record high of nearly 8.5 million.
NBC will broadcast live a star-studded telethon Friday night at 8 p.m. ET to raise money for the victims of Hurricane Sandy.