Is Human Barbie A Fake? Telling Video Blows Her Doll-Like Façade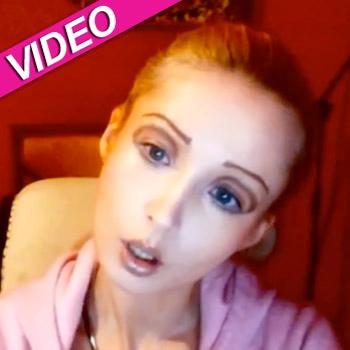 By Debbie Emery - RadarOnline.com Reporter
The 'Human Barbie' has become an Internet sensation and the object of many men's affections since photos of her unnaturally tiny waist, bulging breasts and chiseled face hit websites.
While Valeria Lukyanova has adamantly denied that her living doll looks are the product of either plastic surgery or PhotoShop, newly unearthed video shows the 21-year-old Ukrainian model looking startling different from her still shots.
Article continues below advertisement
The controversial and eye-opening video was posted by the TheDirty.com, where the website's founder Nik Richie dubbed her: "Valeria Lukyanova is the Michael Jackson of Ukraine."
"This girl is a FRAUD. She had been badly photoshopping her photos since the beginning of her time online," alleges the commentator on the site. "Her videos aren't photoshopped. Does she still look the same? There is a ton more of videos out there and as you can see from them, she looks nothing like she does when she photoshops her photos."
In the bizarre footage, Valeria has her head tipped at an extreme angle and says in her native tongue: "Everyone who will try to ask me about my neck at least one more time in their life will be banned immediately.
"Mean people.. Can't you understand I have neck problems? And I can't hold my neck straight," she said, while flipping her head back and forth proactively as she complains about her "thin and fragile neck, and big head."
Article continues below advertisement
Lukyanova recently flaunted her figure and razor-sharp cheekbones in her first photo shoot for V Magazine, where she opens up about her fanaticism with looking like the timeless Mattel Toys icon, and both her plastic looks and her flying-with-the-fairies personality are equally disturbing.
The blonde bombshell has spoken out against her critics, claiming to be "happy I seem unreal to them, it means I'm doing a good job," but remains adamant that her transformation didn't require going under the knife. "This is how they justify not wanting to strive for self-improvement.
"I'm an idealist and a perfectionist, and I want my looks to reflect the world within me and how I feel," she told V Magazine.