Hilary Swank May Buy Apartment In Paris To Be Near New French Beau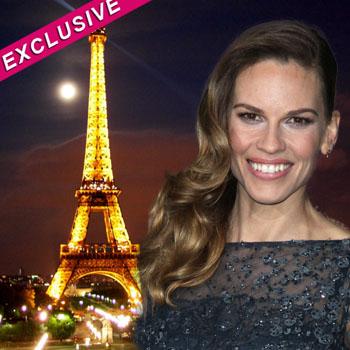 By Jon Boon - Radar Reporter
Hilary Swank's love-life is moving fast, as the Million Dollar Baby actress is planning on buying an apartment in Paris to be nearer to her new French beau, RadarOnline.com is exclusively reporting.
The two-time Oscar winning star, 38, who was spotted debuting Laurent Fleury in Los Angeles last month, is looking into the prospect of living in the romantic capital of the world.
Article continues below advertisement
Swank has begun learning the language and also wants to star in French-speaking movies.
"Hilary loves Paris and wants to get her own apartment in the city," a source told RadarOnline.com.
"Laurent, who has a real estate business, is based there, and they have been sharing his apartment whenever Hilary comes over from the U.S.
"But now Hilary has decided that she wants her own apartment and is open to the idea of learning French.
"She loves French cinema and would welcome the opportunity to star in a French-speaking movie.
"Hilary is also blissfully in love with Laurent and wants to spend more time with him in his own city.
"Laurent has two kids in France and Hilary is very happy to play happy families to accommodate her new man," the source revealed.
Swank and Fleury were seen walking hand-in-hand on their way to a friend's party last Saturday in Venice Beach, Calif.