It's A Jungle Under There! Celebrities Flaunting Their Hairy Armpits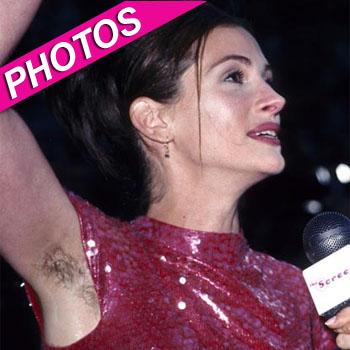 Talk about a body hair blunder!
From leading ladies to sexy singers, these Hollywood stars have committed style sins by hitting the red carpet and the streets, showing off a jungle of hair -- or just too much stubble -- underneath their arms. RadarOnline.com has photos of 12 sexy celebrities showing off their unshaved armpits.
Britney Spears isn't exactly the queen of glamour, so isn't shocking that the pop star has experienced a few Oops…I Did It Again moments with her grooming regiment – including showing off less than sexy armpit fuzz.
Article continues below advertisement
Drew Barrymore, Julia Roberts and Hilary Swank all have years of red carpet experience, but even these big screen bombshells have forgotten to shave their armpits before big movie premieres and swanky soirees.
Beyonce, who is considered one of the biggest divas on the stage, has also committed the armpit hair blunder on the red carpet, showing off furry underarms – but at least her armpit hair wasn't dyed blue to match her locks a la Lady Gaga!
To see all the stars who have forgotten to shave theirarmpits, click here.