Demi Moore Looks Healthy And Happy On Year Anniversary Of Ashton Kutcher Split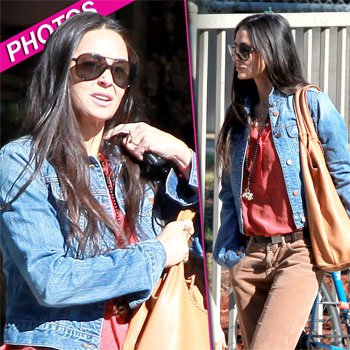 Demi Moore is 50, single and looks healthier than she has in a long time!
Exactly a year after announcing that she was splitting up with her husband of six years, Ashton Kutcher, the Hollywood star was celebrating her year anniversary of being single by hitting the streets of Los Angeles on Sunday afternoon with some pals, and RadarOnline.com has the photos.
Looking super bohemian in a pair of brown pants, a red printed Joie Nepal Blouse, a denim jacket and moccasin booties, Demi, who turned the big five-oh last weekend, spent the bright and sunny afternoon strolling around a West Hollywood park with a group of friends.
MORE ON:
hollywood happenings
Article continues below advertisement
So, what is the secret to Demi's youthful look?
In the final days of her 40s, she was spotted entering the Cryohealthcare Clinic in Los Angeles, which touts their skin care and anti-aging practices on their website.
RELATED STORIES:
Demi Moore Named 'World's Most Coveted Cougar'
Ashton Kutcher And Mila Kunis Make It A Sushi Day
Demi At Almost 50! Moore Gets Anti-Aging Treatment Before Her Big Birthday
Get A Room Rumer! Willis Packs On PDA At The Beach Showing Off Her Rockin' Bikini Bod!