Digging For Gold? 10 More Stars Embarrassingly Caught Picking Their Noses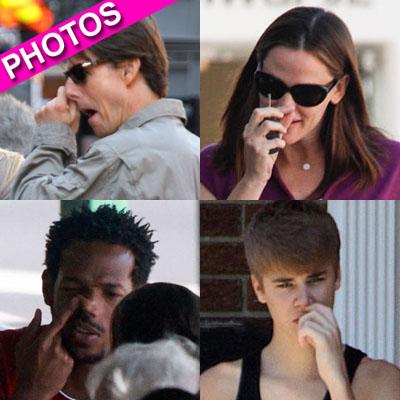 It's a more than mortifying moment when a Hollywood star gets caught with a finger up their nose!
From teen heartthrobs and big screen bombshells to Hollywood's most beloved mothers, a slew of celebrities have been busted picking their nose on camera, and RadarOnline.com has 10 more photos of stars that were embarrassingly caught digging for gold.
Oh, Baby, baby, baby, you better be more careful about picking your nose in public! Teen heartthrob Justin Bieber wasn't breaking any hearts when he got totally busted with a finger up his nose.
Article continues below advertisement
Jennifer Garner is one of Hollywood's most devoted mothers and isn't bashful about getting snapped with a makeup-free face and dressed in totally casual duds, but Mrs. Ben Affleck probably wasn't thrilled to see her nose picking antics getting caught on camera.
Getting pesky boogers out of his nose is no Mission Impossible for Tom Cruise! The blockbuster actor, who usually looks so smooth and suave in candid photos, got caught off guard when picking a winner.