Victoria's Secret Model Candice Swanepoel Posts Scary Skinny Pic Of Her Concave Stomach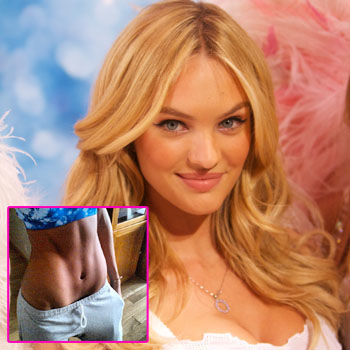 By Debbie Emery - RadarOnline.com Reporter
Two days before the highly anticipated Victoria's Secret Fashion Show, Candice Swanepoel posted a photo on Twitter showing how she had meticulously prepared for her moment in the spotlight while scantily clad on stage.
Tragically the ensuing image of her concave stomach and jutting hipbones has caused a bitter backlash from followers outraged with the South African model's unhealthy body image, along with concerns that she is suffering from an eating disorder.
Article continues below advertisement
"It's quiet obvious this girl is bulimic," wrote one commentator, while another posted: "It looks like the African kids… only missing the number you need to call to donate."
This is far from the first time the 5'9" blonde beauty's emaciated frame has appeared shockingly thin, and as RadarOnline.com previously reported, Candice was skin and bones in a sexy animal print bikini at the 2011 SWIM collection launch in March 2011.
After she got a frosty reception to the glamourous shoot, Swanepoel, 24, defended her weight to People.com. "I am healthy and happy," she said. "I'm heartened to know how much everyone cares about me, but in this case, everything is normal and good."
Last month, she appeared with a group of equally skinny VS models at the Mario Testino Exhibit preview in Boston, where healthy-looking new mom Alessandra Ambrosio dominated the red carpet with her sexy curves over her skeletal cohorts.