Exclusive
Brooke Burke-Charvet's Mom: She's 'Tired & Shaken' After Cancer Diagnosis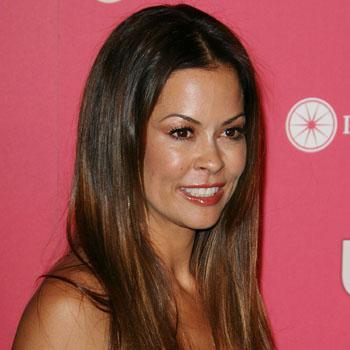 When Brooke Burke-Charvet announced the shocking news that she has thyroid cancer to her fans via video, she put on a brave face, but her mother said the diagnosis stunned her.
Donna Hatounian recounted her 41-year-old daughter's reaction to the shattering news, and said that Brooke didn't understand why she was struck with the disease.
A distraught Brooke said to her mother: "I live healthy, I eat healthy, I get regular medical checkups and do everything I'm sup­posed to do!" according to Donna's exclusive interview with the National Enquirer.
Article continues below advertisement
Her mom remains emotionally shaken by the news and was on the edge of tears as she poured out her heart to the Enquirer: "I'm scared for Brooke," Donna said. "She's handling it well in front of all of us, but I can tell she's really tired and shaken. She works very long days, and she's spending every minute she can with her husband and children."
In an incredible display of courage, the mother of four plans to keep working until Dancing with the Stars wraps on Nov. 27, even though it means postponing po­tentially lifesaving surgery.
MORE ON:
Dancing With the Stars
"They've doubled up on her thyroid medication to avoid complications, and three surgeons OK'd her putting off the surgery," her mom revealed to the Enquirer.
"Brooke's first con­cern is for her children. She took her oldest daughter out for dinner the night before she released the video to warn her about what would be happening when the news broke. Her kids are taking the news well – probably better than I am."