Brooke Burke Shares Her Favorite Things!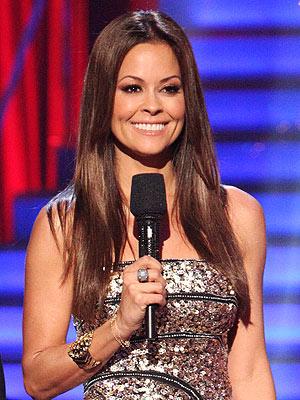 Sexy 41-year-old cohost of Dancing with the Stars Brooke Burke-Charvet is one busy Hollywood mother of four. But she still found time to chat with Star.
Favorite Restaurant:
Nobu in Malibu. I love the ambiance, and the ocean view is breathtaking.
Favorite Recent Movie:
I honestly can't remember the last time I saw a movie intended for adults. It's all about the kids these days! Frankenweenie was the last movie I saw — it was so cute!
Article continues below advertisement
Favorite Book:
I just ordered The Red Tent by Anita Diamant. It's a look at the traditions and turmoil of ancient womanhood. I can't wait to dive in!
Favorite Song On iTunes:
"Your body" by Christina Aguilera is dominating my workout mix lately. It's catchy and really pumps me up, so those squats aren't so painful.
Favorite Spot:
St. Barts — and my living room!
Favorite Family Activity:
Gardening. This year we planted tons of vegetables like tomatoes and lettuce so my family can always eat healthy. It's been fun learning our way around the garden as a family.
Favorite Cause:
I'm working with brita and the Alliance for a Healthier Generation to encourage parents and children to swap out sugary beverages and drink more water.