Brad Pitt's New Role: Furniture Designer!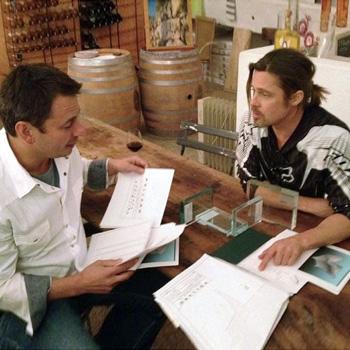 Brad Pitt isn't busy enough.
The actor-producer-philanthrophist-Chanel pitchman has added furniture designer to his resume!
But you won't find Pitt's creations at your local furniture store. His beds, chairs and tables will all be limited editions or limited production. Think in the neighborhood of $45,000 for a single chair!
"I've been doodling ideas for buildings and furniture since the early 1990s, when I first discovered Charles Rennie Mackintosh and Frank Lloyd Wright," Pitt told Architectural Digest. "Actually I found Wright in college, when I was looking for a lazy two-point credit to get out of French. It forever changed my life."
Article continues below advertisement
Ironically, Pitt's new project began at his home he shares with Angelina Jolie and their kids in France when Frank Pollaro, whose New Jersey-based company produces high end reproductions of art deco furniture, visited.
Pitt was a client, and over "far too much wine", said Brad, Pollaro convinced him to collaborate on a collection.
Pieces from the Pitt-Polaro line will be "typically at the highest end of the custom-furnishing scale," Pollaro revealed. "These will be up there, even north of that."
MORE ON:
hollywood happenings