Boy Who Killed Neo Nazi Father Claims TV Show Criminal Minds Inspired Him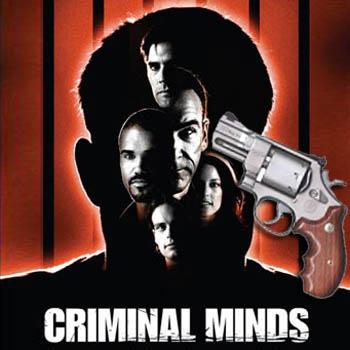 By Debbie Emery - RadarOnline.com Reporter
A 10-year-old boy who shot and killed his neo Nazi father believed he would get away with it after watching an episode of Criminal Minds about an abused child who committed a similar crime.
The defendant, now 12, is currently on trial at a juvenile court in Riverside County, Calif. for the May 1, 2011 murder, and told police in a taped interview that he didn't think he would be punished after the killer in the CBS drama wasn't arrested for shooting his violent father, reported the Press-Enterprise.
Article continues below advertisement
"A bad father did something to his kids, and the kid did the exact same thing I did — he shot him," revealed the boy in a video that prosecutors played in court on Wednesday. "He told the truth and wasn't arrested and the cops believed him. He wasn't in trouble or anything. I thought maybe the exact same thing would happen to me.
"I thought it would be a good idea to end it — to shoot my dad in the head," he said. "I shot him because I was upset. He was always taking off. He also hit me."
The child went on to describe how he lay in bed at 4 a.m. plotting how to kill his neo Nazi father, Jeff Hall, to end his reign of abuse and to also ensure that if his parents got divorced, he would end up with his step-mother.
"I was choosing who should leave and I chose my dad… I thought he would get out of the hospital and maybe we could go back to being friends and start over."
The boy's 11-year-old sister also took the stand on Wednesday and tearfully told the court how he had confessed to her that he planned to kill their father days before the fatal shooting.
Article continues below advertisement
The children's step-mom, Krista McCary, had initially confessed to the murder, but revealed on Tuesday that she had lied to protect the children. She has pleaded guilty to one felony count of child endangerment and criminal storage of a firearm.
Later in the taped interview, the boy described how he took the gun and aimed it at his dad's ear so it didn't look like he did it on purpose. "I wanted it to look like an accident."
He detailed the torrent of torture the family endured at the hands of the unemployed plumber with white supremacist beliefs, which included threatening to burn the house down, saying he would kill everyone, and cheating on his wife.
However, McCary revealed that her step-son is prone to lying and exaggeration, and detectives allegedly caught him in several mistruths during the interview, along with showing a stark difference in behavior between when he was questioned and while he was alone with his step-mom.