Paz De La Huerta Nip Slip As She Changes Clothes In Public Parking Lot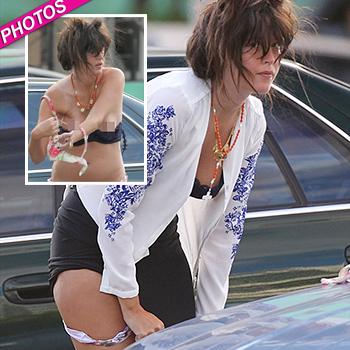 She has raised eyebrows before for her drunken behavior and public scuffles. But on Friday Boardwalk Empire star Paz de la Huerta drew stares for another reason – changing out of her bikini in the middle of a Miami Beach parking lot!
RadarOnline.com has the photos of the statuesque beauty looking disheveled and clutching a cigarette while peeling out of her swimming costume in broad daylight.
Article continues below advertisement
De la Huerta was seen popping into a public restroom earlier on in the day but bizarrely she didn't return when she decided to swap outfits.
Instead the 28-year-old flashed a nipple as she took off her floral bikini top and replaced it with a purple lacy bra.
The actress was more successful preserving her modesty when she took off her bikini bottoms. She pulled on a black mini skirt before taking off the rest of her swimwear.
In the past de la Huerta has been known for publicly flashing her underwear...as part of an ad campaign. Last year the New Yorker snagged a modeling gig for the lingerie line . In a series of faux paparazzi shots she is seen going into events flashing her saucy underwear.
RELATED STORIES: