Blind, Deaf, 3-Legged Dachshund Saves Mother And Baby From Fire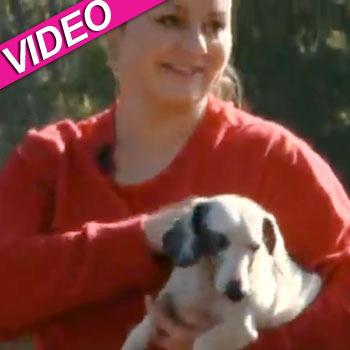 The blind, deaf, three-legged dog Katie Crosley rescued has returned the favor by saving the Oklahoma woman and her newborn son from a raging fire.
Crosley had just recently brought her son, Jace, home, after four weeks in the Neonatal Intensive Care unit -- the baby was born with a heart defect.
She was awaken last Sunday by her pet Dachshund's consistent barking, and thought he needed to go outside.
Article continues below advertisement
"When I opened the door, it was a wall of flames," she told KFOR-TV.
Katie bundled up her baby and somehow made it out of the door. They escaped with nothing but the clothes they were in.
Their survival was all because of a little disabled dog named True, that nobody else wanted.
"We're thankful for him. This could have been a bad deal," Crosley said.
Crosley's Grady County community is now trying to help her, Jace and True, get re-established.
"We've been overwhelmed with support from friends and people we don't even know; just totally brought me to tears, the people of Oklahoma and how generous they are," Katie said, holding back the emotion.
If you'd like to assist the family, an account has been set up at the Chickasha Bank & Trust Company, 1924 S. 4th St, Chickasha, OK 73018.
RELATED STORIES: