2012 CMA Awards: Taylor Swift's Brutal Night - Wins Nothing, Love Life Mocked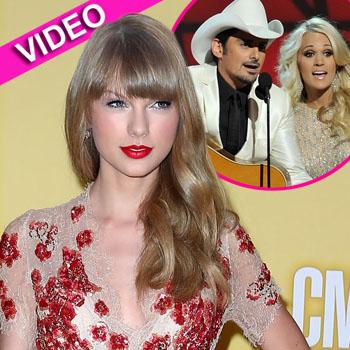 Article continues below advertisement
"Brad and I were backstage talking about what a strange year this has been," Underwood said, to which Paisley mentioned the NFL trades that brought Peyton Manning to Denver and Tim Tebow to New York.
Paisley said the best trade of all however, was the Kennedy family upgrading from Arnold Schwarzenegger to Taylor Swift.
"I mean, what they got for that," Paisley said before Underwood whispered the obvious developments about the breakup to him.
"What? Why don't I ever hear about these things?" Paisley asked. "I'm the last one to know."
"Are they ever gonna get back together?" he asked, to which Underwood said, "Never, never, never … never ever," playing off Swift's smash single.
Watch the video on RadarOnline.com
"Maybe she'll write a song about it," Paisley joked, referring to Swift's catalog choc full of personal songs about her love life heartbreak with exes such as John Mayer, Jake Gyllenhaal, Joe Jonas, Taylor Lautner, Cory Monteith and most recently, 18-year-old Conor Kennedy.
The cameras didn't show Taylor at any point during the ribbing, although she later performed her single Begin Again.
Swift's new album Red is in stores now.