2012 CMA Awards: Blake Shelton Pays Tribute To Late Brother & Dad; Taylor Swift Shut Out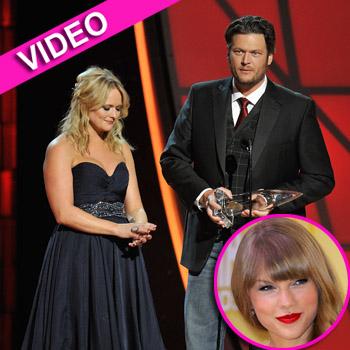 Country's leading superstar couple, Blake Shelton and Miranda Lambert, were the big winners at the 46th annual CMA Awards Thursday night in Nashville, and RadarOnline.com has all the details.
Shelton, 36, whose popularity has skyrocketed thanks to NBC's The Voice, took home three trophies, most notably his very first trophy as entertainer of the year, beating out two-time champ Taylor Swift, 22, who, surprisingly, was shut out in all the categories she was nominated in.
Article continues below advertisement
Celebs Arrive To The 2012 Country Music Awards
In addition, Shelton captured his third consecutive male vocalist of the year award. Lambert won her third straight female vocalist award, and the couple shared one of the night's most coveted honors -- the song of the year award -- for co-writing her smash hit, Over You.
During their acceptance speech, Shelton spoke emotionally about the inspiration for the song -- his late brother, Richie, who died in a car accident.
"I lost my brother in a car wreck when I was 14 years old," Shelton told the audience. "Later in life, when I decided I wanted to be a country singer, my dad always told me, 'Son, you should write a song about your brother.' I lost my dad in January, and it's so amazing to me that tonight -- even after he's gone -- he's still right. I just needed the right person to write this song with and the right person to sing it."
Article continues below advertisement
During her acceptance speech for female vocalist of the year, Lambert quipped: "Holy crap. I don't necessarily deserve this, but I'll sure take it."
Watch the video on RadarOnline.com
Then she spoke about the emotional and deeply personal nature of Over You.
"I didn't say anything for song of the year because it was a huge, huge dream of mine to write the song of the year," she said. "And I never thought I'd get to, especially celebrate it with my husband."
During her speech, Lambert graciously also sung the praises of the other four nominees in the female vocalist category -- Kelly Clarkson, Carrie Underwood, and Martina McBride, and Taylor Swift.
"I've been listening to Red all week long. It's freakin' awesome, Taylor," Lambert said. "I was at Carrie Underwood's rehearsal yesterday and she sang Blown Away three times in a row, and it blew me away. And I'm sitting here looking at Kelly Clarkson. I sang with her onstage in Colorado, and I wanted to crawl in a hole and die after that. I just talked to Martina, and she invited me to her house. I grew up with her records and tried to hit even one note she ever sang, and it's impossible.
Article continues below advertisement
"So I can't believe I'm standing up here holding this right now. But I'm going to try to represent for all the females who want to be up-and-comers and that want to just get their country voice out there. There's room for all of us girls...We're going to stick together and get our country voices heard."
In accepting the top award of entertainer of the year, Shelton talked about his dreams as a young aspiring singer and acknowledged he hasn't been on the road that much due to his commitment as a judge on The Voice.
"When I moved to Nashville in 1994, I had two goals," he said. "One was to someday have a gold record, and one was to someday be a member of the Grand Ole Opry. Entertainer of the year...what is this? I don't even know.
"Look, I know I'm not out there on the road. Oh, my gosh. Taylor Swift? I know I'm not out there as much. And I don't know how this happened. I freakin' love it, though. Listen, I try to represent country music as best I can with everything I do. It's television, it's touring. It's a lot of things. I love country music more than anybody in this room. Thank y'all so much. I love y'all."
Article continues below advertisement
In a night filled with dazzling musical performances -- and heartfelt remarks about the victims of Hurricane Sandy -- most of the most moving moments came at the end with an all-star tribute to Willie Nelson, who received the CMA's first lifetime achievement award named in his honor. Lady Antebellum kicked off the medley with Nelson's signature hits, Always on My Mind and Crazy. Shelton and Keith Urban then followed with Whiskey River, accompanied by Nelson's longtime harmonica player, Mickey Raphael. Faith Hill and Tim McGraw then performed Good Hearted Woman. Nelson then joined all of the singer onstage to perform one of his best loved songs, On the Road Again.
The awards show was hosted by Carrie Underwood and Brad Paisley for the fifth straight year.
Here's a recap of the night's big winners:
Entertainer of the Year: Blake Shelton
Female Vocalist of the Year: Miranda Lambert
Male Vocalist of the Year: Blake Shelton
New Artist of the Year: Hunter Hayes
Album of the Year: Eric Church, Chief
Vocal Group of the Year: Little Big Town
Song of the Year: Miranda Lambert and Blake Shelton, Over You
Vocal Duo of the Year: Thompson Square
Single of the Year: Little Big Town, Pontoon
Winners are determined by balloting among 8,000 members of the Nashville-based CMA, whose membership includes musicians, producers, record company, radio and other music-industry professionals.
RELATED STORIES:
CMA Awards Pokes Fun at Kim Kardashian & Justin Bieber
Two Couples Score Perfect 30s On Country-Themed Dancing With The Stars: All Stars