The X Factor: Britney Spears Thrives In Live Debut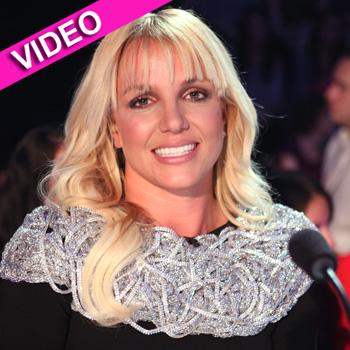 So far, so good, for Britney Spears.
Despite some concerns, the 30-year-old Toxic singer debuted in strong fashion on The X Factor's first live episode Wednesday, delivering a professional, polished performance on the judges' panel alongside Simon Cowell, L.A. Reid and Demi Lovato.
The resurgent mother-of-two was fair in her critiques -- sugary sweet when she enjoyed the performance, and constructively-critical when the outing merited it.
Article continues below advertisement
She told Jason Brock, who sang Jennifer Lopez's Dance Again, "I really feel like you could have chose a better song, but overall it was interesting and entertaining."
Brit also thrived as a mentor: She advised 13-year-old Carly Rose to follow in her footsteps and don a school uniform in her performance of (ironically) Christina Aguilera's Something's Got A Hold On Me. While the judges gave Carly mixed reviews, Britney reinforced her young apprentice's confidence, telling her that her "vocals were amazing" and that she'd done a "great, great job."
Watch the video on RadarOnline.com
After one of her singers, Diamond White, got rave review from the judges, she told the teen, "I'm so incredibly proud of you -- you are amazing!"
As we previously reported, the show's producers had been concerned the unpredictable hit-maker could crack under duress, having not yet been tested on a live broadcast.
"There is no rewind button on live TV," an insider told Mail Online. "Taping auditions is one things when they have a whole day to take breaks, but live shows could be a train-wreck if she isn't super-prepared for it or if she can't handle the pressure. The X Factor has always claimed that Britney didn't walk off during auditions, but everyone knows she struggled at the start."
The X Factor airs Wednesdays and Thursdays on Fox at 8/7c.