Groom's Brother Released From Jail After Boozy Wedding Day Brawl That Left The Bride's Uncle Dead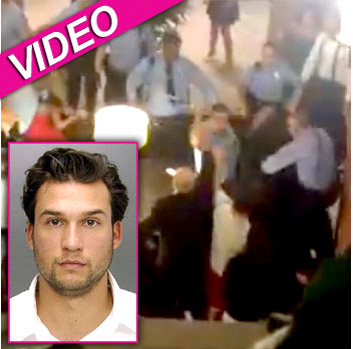 By Debbie Emery - RadarOnline.com Reporter
What should have a been a bride's happiest day of her life took a dark turn when a wedding reception brawl left her uncle dead and new brother-in-law behind bars.
Bride Nicole Sannuti's uncle, Vince Sannuti, died of a heart attack after an alcohol-fueled fight broke out not only between guests from the same wedding party but also between guests from two separate wedding parties, reported the Philly.com.
Article continues below advertisement
Matthew Sofka, the brother of the groom, was released from jail Monday after he was charged with assaulting a police officer, reckless endangerment and inciting a riot for his alleged role in the fight.
Two summary citations for disorderly conduct were also issued to men in their late 20s, said police spokesman Lt. Ray Evers. Police are deciding whether to charge him with assault on an officer and Evers said, "It's definitely leaning that way."
The violent boozy outburst occurred at a hotel bar in the Society Hill neighborhood of Philadelphia in the early hours of Sunday morning, and the chaotic scene was captured on YouTube, where well-dressed and drunken guests can be seen brashly fighting police while a woman lets out blood-curdling screams.
At least seven police officers can be seen on the video, one of whom repeatedly uses his baton to strike a wedding guest.
Article continues below advertisement
At one point the amateur cameraman asked, "Did they just deck the bride?" She was later seen leaving the hotel in tears while still wearing her wedding dress.
"There were tons of people, probably 75 to 100 people," revealed 15-year-old Max Schultz, who shot the footage that has since gone viral and earned more than 600,000 hits on YouTube. "It was very crazy, obviously, but I felt kind of safe with the huge police presence there."
Sofka, 26 from Westfield, New Jersey, was reportedly Tasered by police during the melee, and numerous guests have spoken out against the excessive use of force by the authorities.
Sannuti's friend, Kristin Pettito, tweeted Monday, "@PhillyPolice your actions at Sat night's hotel fight were despicable. Never in my life have I seen such an abuse of power. Shame on you."
The Philadelphia Police Department said such force was necessary to control the crowd because alcohol played a role in the fight.
The 57-year-old fatality was found unconscious outside of the wedding at 2:06 a.m. He was taken to Jefferson University Hospital, where he was pronounced dead of a heart attack at 2:51 a.m.