Amazing Act Of Forgiveness: Man Embraces The Drunk Driver Who Killed His Son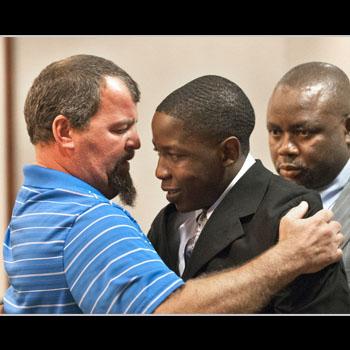 A Wyoming courtroom was brought to tears Monday, after a heartbreaking act of forgiveness at the trial of Takunda Mavima, who had just been sentenced to 30 months in prison for the death of two of his classmates.
Mavima, now 18, had been out celebrating his high school graduation and was driving home with several friends when he was involved in an accident resulting in the deaths of Tim See, 17, and Krysta Howell, 15.
Article continues below advertisement
Mavima, well below the legal drinking age, had a blood alcohol level of 0.10 and as a result was charged with both deaths.
"I'm so sorry that I took two bright, intelligent, wonderful people out of this world …. I wish I could… I wish that I…I'm sorry," said Mavima, choking his way through a tearful apology to the victims' families at the sentencing.
It was an apology that was heard.
Instead of wrath from the victims' families, Mavima's heartfelt apology was accepted. Both families spoke on Mavima's behalf, urging the court to give him the lightest possible sentence, recognizing that Mavima was a good kid who made a bad decision.
MORE ON:
Celebrity Justice
See's sister Lauren See even asked the court not to punish Mavima at all.
"I am begging you to let Takunda make something of himself in the real world – don't send him to prison and get hard and bitter, that boy has learned his lesson a thousand times over and he'll never make the same mistake again," Lauren said to the court.
The day came to an emotional crescendo when after the sentencing, See's father embraced Mavima, letting him know that despite all that happened, he was forgiven.