'Did They Just Deck The Bride?' Wedding Brawl Captured On Video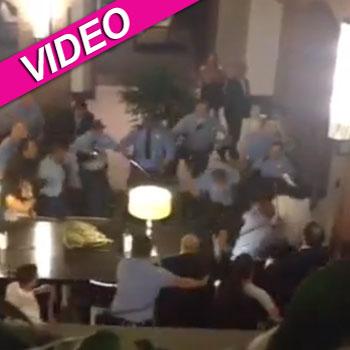 The City of Brotherly Love definitely did NOT live up to its name in the early hours of Sunday morning.
In a scene that seemed to be straight out of The Real Housewives of New Jersey, a brawl broke out between members of two wedding parties at an upscale Philadelphia hotel in the city's historic district.
When it was over, one man was dead from a heart attack and three other men were arrested.
Article continues below advertisement
The 57-year-old uncle of the bride was found unconscious outside of the wedding at 2:06 a.m. He was taken to Jefferson University Hospital, where he was pronounced dead of a heart attack.
Summary citations for disorderly conduct were issued to two other men. A third man who can be seen being hit by a police baton, is still behind bars while the PD decides whether to charge him with assault on an officer. "It's definitely leaning that way," police spokesman Lt. Ray Evers told The Philadelphia Daily News.
It's unclear what started the melee which took place in the bar at the Sheraton Society Hill, "newly refurbished after a multi-million dollar renovation" according to its website.
But one man can be clearly heard on the video asking, "did they just deck the bride?"
Offered Lt. Evers, "There was an issue with a lot of alcohol fueling the fight."
Ya think?