The Waltons Reunite For 40th Anniversary: But Where's 'John-Boy?'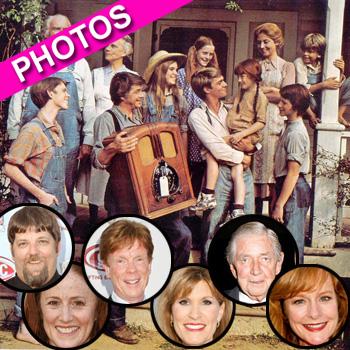 By Jon Boon - RadarOnline.com Reporter
"Goodnight John-Boy" became "Where on earth are you, John-Boy?" as cast members of 70s TV staple The Waltons came together to celebrate the 40th anniversary of the classic show in Los Angeles on Saturday.
The reunion was organized by Kami Cotler, famous for playing Elizabeth in the hit drama, as a fundraiser for a school in Inglewood, Calif., where she now works as a principal.
Article continues below advertisement
But fans were left wondering about the whereabouts of actor Richard Thomas, who was a no-show at the event.
However, fans shouldn't have been too disappointed with the turn out at the Ebel Theatre in Hollywood.
Kami, 47, was joined by Judy Norton-Taylor, who played tomboy Mary-Ellen, the family's eldest daughter. Judy appeared as youthful as ever in an elegant black dress.
Other stars that DID show were David Harper (Jim-Bob), Ralph Waite (John, Sr.), Mary Beth McDonough (Erin) and Jon Walmsley (Jason).
Thomas, 61, wasn't the only star that was missing.
Michael Learned, who portrayed Olivia Walton, couldn't attend either. The pair were both appearing in stage shows on the night.
Mary McDonough expressed her joy at reuniting with her on-screen family. She said: "We really became like siblings. We all love each other."
The Waltons creator, Earl Hammer Junior, also spoke at the reunion. He said: "The series succeeded because the climate was right then.
Article continues below advertisement
"There was a yearning for stability and unity - to see people trying to build a decent life.
"Family shows now are most often comedies, with people acting silly rather than with a sense of dignity and reality."
The Waltons, about a family in rural Virginia, became a cult classic when it ran for nine seasons from 1972-1981. During that time it even won an Emmy award for Outstanding Drama Series.
Its success continued after it was pulled off the air – as a number of TV movies and DVDs were released by popular demand.
Famously, they became the poster-family for all Americans, including former President George Bush, who said in a 1992 speech he wanted families in the U.S. to be "more like The Waltons and less like The Simpsons."
Despite the show's popularity, many of its stars have now stepped away from the acting world.
Judy Norton-Taylor, 54, runs a dinner theatre chain in Canada, David Harper, 50, works as an art dealer in Los Angeles, Ralph Waite, 84, launched a failed political career making three unsuccessful bids for Congress as a Democrat, while Erin Scott (Ben) is now vice president of a messenger service in Los Angeles. That's not forgetting Jon Walmsley – now a successful songwriter working with The Who legend Roger Daltrey.