The Waltons Say 'Goodnight, John-Boy!' Again, After 40 Years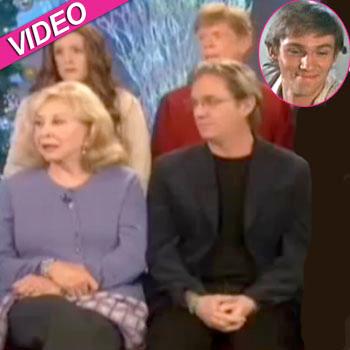 By Debbie Emery - Radar Reporter
Millions of Americans grew up going to bed by mimicking the famous chorus, "Goodnight John-Boy, goodnight Jim-Bob," and now the Waltons family has been reunited to celebrate the 40 year anniversary of the classic TV hit, The Waltons, and RadarOnline.com has video of their nostalgic interview.
The huge cast joined together on the Today Show on Friday and giggled like school friends at a high school reunion. "It's always trouble, it's trouble when we get together," revealed Richard Thomas, who played narrator John-Boy.
Article continues below advertisement
The drama originally aired on CBS from 1972 to 1981 and tells the trials and tribulations of the huge family and their life on fictional Walton Mountain, Virginia, during the Depression era and World War II.
In a time when television is flooded with reality shows featuring teen moms, drunk guidos, and rich socialites getting plastic surgery, The Waltons reminds many viewers of a bygone era.
What host Matt Lauer marveled at the most is that after all these years and all the time they spent on set together, not one person went out and wrote a tell-all book.
"No arrests and no convictions," laughed Thomas, while his castmates, which included Kami Cotler (Elizabeth), Jon Walmsley (Jason), David Harper (Jim Bob), Eric Scott (Ben), Michael Learned (Olivia, a.k.a. Ma), Judy Norton (Mary Ellen), and Mary Elizabeth McDonough (Erin), agreed that is was a hilariously happy work environment. "It was just great fun, lots of joking around, practical jokes..." they all echoed.
Article continues below advertisement
Along with the permanent cast members, many Hollywood stars got their first taste of success on the show, including John Ritter and Sissy Spacek.
Unlike child stars today, the actors who played the kids said they didn't get hit by the negative aspects of Hollywood.
"It was a very different time to be famous," said Cotler, who played the redheaded pig-tailed baby of the family. "When Walton fans meet you, they feel like you're family… people just want to give you a hug."
When asked if the feel-good show was a little too wholesome, Learned explained that it started off dealing with extremely gritty serious global issues.
"That annoys me, toward the beginning we were dealing with book burning in Germany, we were dealing with the Dust Bowl cousins…segregation…some real issues, as well as the warmth of the family," said 'Ma,' but admitted that it got a little "sugary" by the end.
Article continues below advertisement
Despite the tough times that it was set in, Thomas thinks the key to The Waltons enduring success is, "family. Family is family," he said.
When it comes to the famous closing line, Thomas never tires of hearing it, "It's wonderful, the idea that even 40 years later people will still shout that out to me on the street is the most extraordinary thing."
True to tradition, the Today Show crew ended the segment shouting, "Goodnight, John-Boy," to the delighted cast.