Alessandra Ambrosio Reveals How $2.5 Million Fantasy Bra Inspired Her To Lose Baby Weight!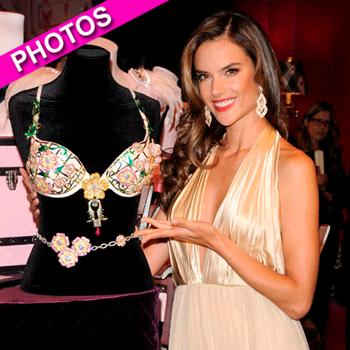 What's better motivation to drop pregnancy pounds, than finding out that you are going to model the most expensive bra in the world?
Alessandra Ambrosio, who have birth to her second child in May 2012, has revealed to Okmagazine.com that the inspiration behind losing her baby weight in record time was the $2.5 million Victoria's Secret Fantasy Bra, and RadarOnline.com has the details.
Article continues below advertisement
"Well, you know, actually when they called to tell me that I was chosen to wear this year's Fantasy Bra I was nursing my two-week old. He was two weeks old and I was totally in a different world. I'm back in Brazil. I'm home nursing my baby and they're like, 'You were chosen to wear the bra!' and I'm like, 'Oh my god!'" the supermodel explains about the luxe jeweled bra, which features a 20-carat white diamond center stone.
"You know, I always wanted to wear it and I was like, 'Yeah, for sure! I'll do it. I'll do it!' And then I look down and I'm holding my baby and I'm like, 'Ah! How am I going to do this? They're going to need a lot of gold right here to cover the whole thing!' It was funny."
How did she lose the weight so fast?
"I started working out after the doctor gave me the OK. I started taking a lot of spinning classes, Pilates. I've been going to the beach as much as I can. Just being outdoors, running after my kids. Whenever I can be active, I'm active."