Stevie Nicks Sorry For Saying Mariah Carey Should've Killed Nicki Minaj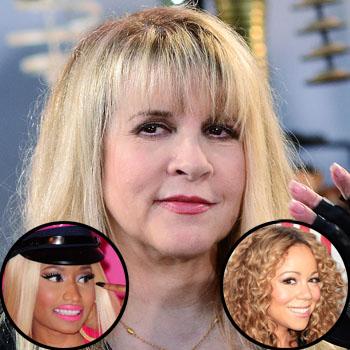 Stevie Nicks says she's sorry for her emotionally-charged rant in which she said Mariah Carey should've "strangled" Nicki Minaj "to death," after the Super Bass singer and her American Idol co-star got into a heated war of words a few weeks back.
She previously told The Daily of Minaj: "How dare this little girl! If I had been Mariah, I would have walked over to Nicki and strangled her to death right there. I would have killed her in front of all those people and had to go to jail for it."
Article continues below advertisement
The Fleetwood Mac singer attributes her over-the-top reaction to being exhausted after a long day of interviews and still struggling with her mother's death late last year.
"I am a very emotional person. I saw what I had said and I didn't sleep all night," she told the NY Post. "I have been touring since June. I lost my mom a couple of months back, and usually I would have called her to ask, 'What should I do?'
"My mother would have said, 'You rushed in to save your friend Mariah. That is not wrong. What was wrong was the words you used. You are a writer. You would never say those words, and that should be a lesson for you for the rest of your life.'
The Rhiannon singer said without her late matriarch's guidance, she went out and played "the insane soldier.
"From the bottom of my heart I would say I am very sorry," she said, noting she didn't even "recognize her words" when reading the controversial interview.