Stefon's Hilarious Guide To Halloween, 'SNL'-Style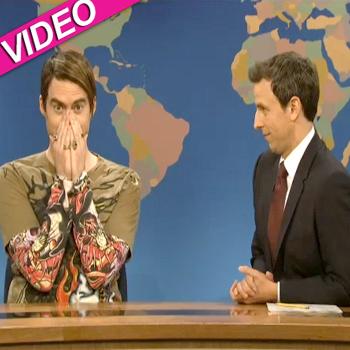 Heading to the Big Apple for Halloween? Before you go, check a guide to celebrating the holiday put together by SNL's 'Stefon.'
Weekend Update's City Correspondent, 'Stefon' -- played by the always great Bill Hader -- is an equal opportunity offender in his guide to all the quirkiest parties and clubs in his favorite town.
But not exactly the brightest bulb, Stefon has suggestions that are totally un-PC, managing to unintentionally offend gays, blacks, Mexicans, little people, Jews...you get it.
Article continues below advertisement
Somehow Weekend update 'anchor' Seth Meyers managed to hold it together, but the sketch is so funny, Hader lost it -- something he NEVER does -- and the audience loved it.
The sketch was a close second -- in RadarOnline.com's book -- to the brilliant parody of Brad Pitt''s Chanel ads that played throughout SNL, with Taran Killam channeling Angelina 's partner to perfection.
You can watch the Weekend Update sketch here!