Secret Behind Russell Crowe's Divorce: Partying & Nights Without Her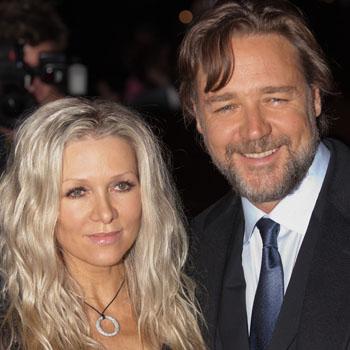 Russell Crowe's late nights and large-yet-fragile ego seem to be the primary reasons behind his split from wife Danielle Spencer, insiders speculate, and RadarOnline.com has all the details for you.
The 48-year-old Oscar-winner and musician Spencer, 43, have two children -- Charles, 8, and Tennyson, 6.
The first crack in the armor came shortly after the couple's 2003 wedding, as Crowe was snapped at The Dollhouse, a Hamburg, Germany strip club, while a pregnant Danielle was at their Australia home. While his camp tried in vain to retrieve -- and halt publishing of -- the photos, they best they could do was spin it that Danielle herself would have been at the nudie bar had she been in town.
Article continues below advertisement
Incidents in London in 2002, New York in 2005 and Toronto in 2005 didn't so much to change actor's high-strung reputation.
In the London dust-up, Crowe reportedly was belligerent and drunk at a restaurant when he licked a female patron's face and asked if she wanted to come up to his hotel room; the woman, Georgie Calder, said the A-list hunk struck her as "utterly revolting."
Another issue in the marriage was distance: While Russell has settled into the Woolloomooloo, Australia penthouse the couple once lived at, Danielle and the kids have lived at a mansion in Rose Bay, where locals have long dubbed her a single mother.
When the mercurial actor was in town, he's been primarily spotted at soccer games and with the two kids -- not Danielle.
As of October, The Gladiator star hasn't lived with his family in 18 months, working doggedly on a number of films -- The Man with the Iron Fists, Les Miserables, Broken City, Man of Steel, Noah and Winter's Tale -- that are all set to come out in the next 12 months.
Pundits have speculated the New Zealand-born actor took on the heavy workload knowing his marriage was in shambles, and preparing to pad his coffers for the inevitable divorce payout.