K-Who? Robert Pattinson Flirts With Mystery Blonde Beauty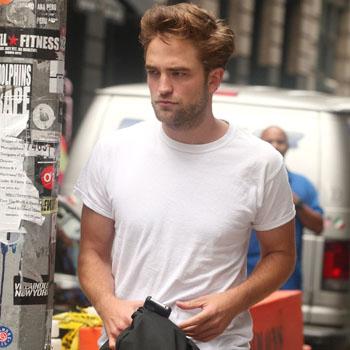 He's always keeping us guessing, it seems.
Robert Pattinson was getting quite cozy in New York's Electric Room at Manhattan's Dream Hotel with an unidentified blonde beauty Saturday, and RadarOnline.com has the details.
The Cosmopolis hunk "had his arm slung around her at one point and they chatted for most of the night," a source told the Daily Mail Online. "They looked like they were having a great time and the girl was making him laugh a lot."
Article continues below advertisement
Sources said the actor was in a group with about five others, "But it looked like Robert only had eyes for the girl … they sat really close to each other on the couch."
The insider added the A-list Englishman was drinking "beers all night and there was champagne" on the table as well, leaving the actor looking "really happy and relaxed, like he didn't have a care in the world."
Recent rumblings place the Remember Me star, 26, back with his longtime love Kristen Stewart, as the wounds in his heart have presumably healed since she embarrassed him by publicly cheating with her married director in Snow White And The Huntsman, Rupert Sanders.