You Go Big Bird! The Most Hilarious 'Negative' Political Ad Ever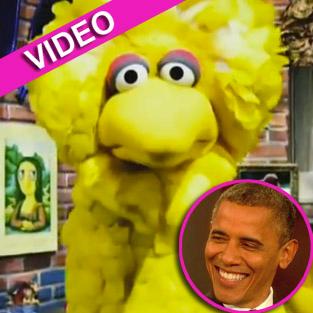 With the U.S. Presidential election only one month away, the political ads are bound to get even more nasty, but one negative spot that's sure to ruffle some feathers is also probably going to make you laugh.
The Obama campaign Monday released a hilarious new TV ad, taking a swipe at one of Mitt Romney's most memorable -- and controversial -- comments from last Wednesday's presidential debate: his desire to slash government funding for PBS. (Sorry, Big Bird.)
Article continues below advertisement
In the days after the debate, President Barack Obama has repeatedly hammered Romney during campaign appearances, saying the Massachusetts Governor "plans to let Wall Street run wild again, but he's bringing the hammer down on Sesame Street."
"Elmo, you better make a run for it!" Obama quipped at a campaign stop last week.
Obama's brand new ad shows photos of some of the country's most corrupt financial criminals -- Bernie Madoff, Ken Lay and Dennis Kozlowski -- and states there is an "evil genius" who towered over them.
"One man has the guts to speak his name," says the narrator in a menacing voice. The spot then switches to Romney saying "Big Bird" repeatedly -- followed by the yellow guy himself cheerfully saying his own name.
Dina Eastwood And Daughter Morgan's Tearful Showdown Over Fame & Dad Clint
"Big, yellow, a menace to our economy. Mitt Romney knows it's not Wall Street you have to worry about it, it's Sesame Street," adds the narrator.
Article continues below advertisement
The tongue-in-cheek ad ends with a shot of Big Bird sleeping in his nest, holding his teddy bear, with the narrator saying: "Mitt Romney, taking on our enemies no matter where they nest."