Hot Mama Secrets! Pink Reveals How She Lost 55 Pregnancy Pounds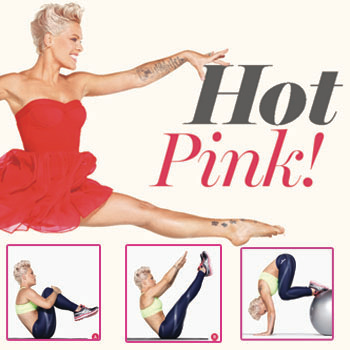 Pink may have packed on the pounds when she was pregnant, but the singer is looking sexier than ever these days!
The 33-year-old reveals in the November 2012 issue of Shape how she got her body back after gaining 55 pounds following the birth of her first child, daughter Willow Sage Hart 15 months ago, and RadarOnline.com has the details.
"I ate a lot of cheesecake during those nine months," the singer reveals about her weight gain. "Also anything sour – Sour Skittles, Sour Patch Kids, key lime pie…"
Article continues below advertisement
Though most Hollywood stars are in a hurry to drop baby weight as soon as they give birth, Pink was more relaxed with her getting back in shape plan.
"I wanted to be kind to my body, so I didn't rush into losing weight. After about eight weeks, I started training with Jillian Michaels and Jeanette Jenkins. I'm not going to say who's tougher. I will say they both kicked my butt more than any other person I've ever worked out with."
Michaels and Jenkins' own hot bodies were also an inspiration to the star.
"When they showed up, I'd be like, 'Okay, I gotta get to work if I want an a** like that!'"
When it comes to her diet, Pink confesses that she is a "Top Chef fanatic" and that she loves spending time in the kitchen preparing healthy dishes for her family.
"Though we eat mostly vegetarian, I do like chicken and grilled salmon. My go-carbs are couscous and quinoa, and brown rice. We also have a big garden. That's where I get the arugula for my yummy salad, which I make with sauteed asparagus, halloumi cheese, and lemon juice and truffle oil."
Article continues below advertisement
Pink, who quit smoking when she got pregnant, admits that she loves drinking vino!
"I'm a wino! I'm taking online classes to learn about different grapes. My dream is to own a winery someday."
Want to get some tips on how to get a hot body like Pink's? Pick up the November 2012 issue of Shape, where the singer shows off all of her workout moves.
RELATED STORIES: