Wife Of North Korea's Leader Makes First Public Appearance In Two Months Amid Rumors Of House Arrest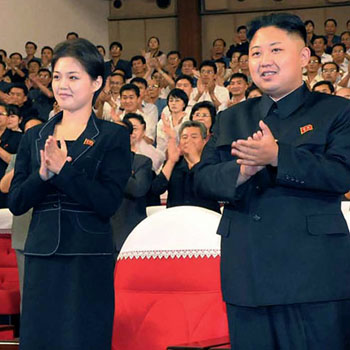 It seems everything is a mystery when it comes to the most closed and secretive dictatorship in the world.
After rumors that she was either pregnant or being held on house detention to punish her for her "cheerful demeanor," the wife of North Korea's new leader has appeared in public for the first time in two months.
Ri Sol-ju, who wed Kim Jong-un earlier this year, has already been spotted at two events this week.
Article continues below advertisement
She was filmed attending a football match and a concert with her husband.
According to KCNA, the country's official news agency, the couple "drew a thunderous cheer from the audience" when they were seen at the concert together on Monday night.
Film footage from the event shows Sol-ju wearing an elegant long, cream jacket pulled together across her stomach with a matching strap.
Sol-ju's return has ended weeks of speculation that the newlywed was either pregnant or being disciplined for her cheerful demeanor by state elders who prefer Jong-un and his wife to look more dour in public.
Quoting their National Intelligence Service, South Korea's Chosun Ilbo newspaper reported: "The analysis has been that there was concern over breach of discipline by Sol-ju among North Korean elders, plus the speculation of pregnancy."
The rumors deepened when Jung-un himself had not been seen in public for two weeks. But, now the newlyweds have returned to the spotlight in quite a big way.
As RadarOnline.com previously reported, North Korean state media finally confirmed Jung-un was married after he was seen at a few events with Sol-ju.