Sorry Ashton, No Little Kutchers On Their Way! Mila Kunis 'Is Not Expecting'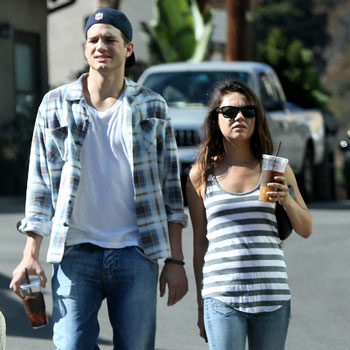 Her rounded tummy sparked rumors she may be carrying Ashton Kutcher's baby. But a rep for Mila Kunis denies the Black Swan actress will be expecting a stork visit anytime soon.
A spokesperson for the star has insisted: "She is not expecting."
The Hollywood rumor mill went into overdrive at the weekend after a bumpy looking Kunis, 29, and Kutcher, 34, were snapped taking a stroll in Los Angeles on Saturday.
Article continues below advertisement
Clutching what looked like an iced coffee, the actress looked casual in a pair of jeans and a tank top. But it seems her shirt's horizontal stripes may have created an optical illusion that Kunis is expecting a baby. Or the actress may have been sporting a bloated tummy after having a little too much to eat!
Either way it seems the Two and a Half Men actor will not be becoming a daddy anytime soon.
Kutcher has had experience being a parent. During his six-year marriage to Demi Moore he was stepdad to her three daughters Rumer, now 24, Scout, 21 and Tallulah Willis, 18.
The couple separated last year but have yet to file for a divorce. As RadarOnline.com previously reported, the separated spouses have been quietly negotiating a financial settlement, which could spill over into a "public battle" if an agreement isn't reached soon.