Exclusive
Mike 'The Situation' Sorrentino 'Was Not Drinking' Says Rep, Amid Rumors He's Back Boozing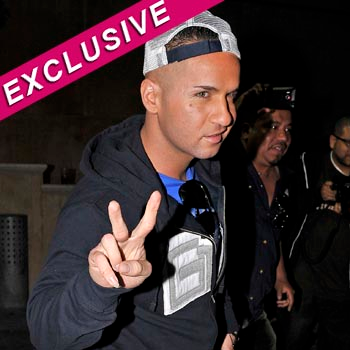 By Debbie Emery - RadarOnline.com Reporter
Former party guy Mike "The Situation" Sorrentino appears to have been taking sobriety seriously after checking into rehab last March, despite being plagued by recent claims that he has fallen off the wagon and lapsed back into bad boozing habits.
The Jersey Shore star was allegedly spotted on September 26 "downing so many cocktails, he could barely stand," an eye witness at the London West Hollywood told Us Weekly, "He isn't sober anymore," they claimed.
Article continues below advertisement
However, RadarOnline.com can exclusively reveal that the reality star was just hanging out with friends at the hotel rooftop and although they were drinking the Sitch didn't indulge.
"He was not drinking," Sorrentino's rep, Cindy Guagenti told RadarOnline.com. "He was at the cabanas at the pool at the London with about 12 people. There was a pitcher of sangria there for the other guests but he did not drink anything alcoholic."
The rumored return to his past demons was surprising for the Sitch, who has stuck to the straight and narrow for the past seven months and even survived filming season six of the Jersey Shore without a hitch, and he is still maintaining a public image of being alcohol and drug free.
Mike and his fellow Guidos appeared on The Ellen DeGeneres Show on Tuesday, where they heralded his new healthy lifestyle.
Article continues below advertisement
"We hit it off and throughout the years we started growing a little bit distant and apart," Pauly D told Ellen. "So I was happy to see that he went to rehab and when he came back I had my best friend back. I was just happy to have Mike back."
While 30-year-old Sorrentino revealed, "I'm stronger for it today and probably the healthiest I've been since I was 21."
In his first interview with MTV News last May after checking out of an inpatient program for prescription drug addiction at Utah's Cirque Lodge, Sorrentino explained that he was taking recovery "one day at a time."
"Ever since I've been out, I'm not gonna lie ... it's not easy," he told MTV. "A lot of rainy days, so to speak. A lot of rainy days."
Rumors of the Sitch's alleged stumble from the sober path comes just days before the premiere of the Jersey Shore's final season, which airs on MTV on Thursday, October 4 at 10 p.m.
RELATED STORIES:
Jersey Shore Canceled After Six Seasons
All That Partying Pays! You Won't Believe What The Jersey Shore Cast Earns
We Have A Sober Situation! Mike Sorrentino Being Taunted For Not Drinking
The Situation: 'My Addiction Was Prescription Painkillers'