I Can't Get Enough Of Myself! Kim Kardashian Checks Out Her Reflection With New Cell Phone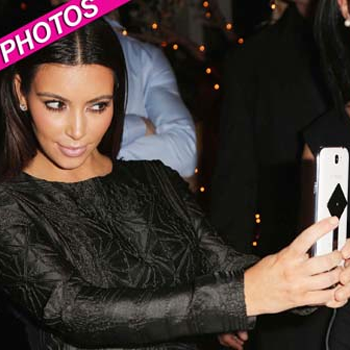 Cell phone, cell phone, in my hand, who is the fairest in the land?
Never one to miss an opportunity to check out her reflection, Kim Kardashian grabbed the new Samsung Galaxy Note II at the mobile company's bash for Miami Heat star LeBron James Tuesday night, using the mobile device as a mirror, and RadarOnline.com has the photos.
Wearing a black cocktail dress with open-toed booties, the 32-year-old reality star not-so-bashfully checked out her face full of makeup with the hot new cell phone.
Article continues below advertisement
This Is Going To Be Uncomfortable! Kim Kardashian's First Husband Joining Khloe On X Factor
Kris Jenner Scolds Kanye West For Gawking At Kim Kardashian's Booty, Before They Started Dating!