What Recession? Kim Kardashian Flaunts Her Assets As She Checks Out $2 Million Luxury Car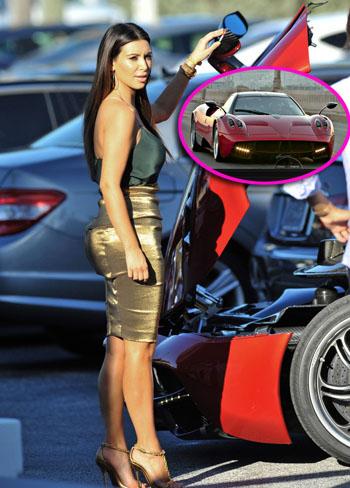 Kim Kardashian cares more "about the simple things" in life, since she started dating Kanye West – like $2 million luxury automobiles!
The 32-year-old reality star, who recently declared on The View that she has changed drastically and simplified her life since splitting from Kris Humphries and hooking up with her rapper beau, took some time out of her busy schedule on Tuesday to shop for a new, ridiculously expensive ride, and RadarOnline.com has the details.
Article continues below advertisement
Flaunting her bombshell booty in a shimmering gold skirt and her oversized assets in a skimpy silk camisole, Kim hit Prestige Imports in Miami with a few of her pals and feasted her eyes upon the $2 million Pagani Huayra luxury sports car.
Kim recently plopped down a massive amount of cash on a Lamborghini for Kanye's birthday.
RELATED STORIES:
Kim Kardashian Wants To Start Family With Kanye West As Soon As Divorce Is Finalized