Exclusive
Katie Holmes Loving Her New Life Without Tom Cruise: 'No Plans On Dating Anytime Soon'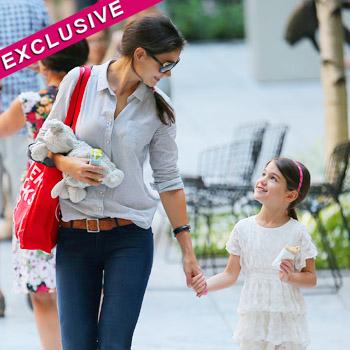 By Jen Heger - Radar Assistant Managing Editor
Katie Holmes is enjoying her new life being single since her divorce from Tom Cruise and has no plans on dating anyone anytime soon, RadarOnline.com is exclusively reporting.
"Katie is just flourishing in her new life," a source close to the situation tells Radar. "Yes, there have been some dark moments but she was more than ready to embark on the next phase of her life post-Tom Cruise. Katie felt that her professional career suffered because she was married to Tom and that she didn't have the final say in her acting roles. Katie is currently busy preparing for her role in Dead Accounts.
Article continues below advertisement
"Katie believes in love and hopes to get remarried one day but has absolutely no plans on dating anytime soon. Katie is devoted to being the best parent possible to Suri Cruise and continuing a smooth transition into their new lives together. Katie knows bringing a new man into the situation would only cause more stress for Suri right now and the actress is still recovering from the end of her marriage to Tom."
As previously reported, leaked legal documents dated August 17 and signed by New York State Supreme Court Judge Matthew F. Cooper offer details of the divorce decree, including the specifics of the A-list couple's custody agreement.
The "marital relationship" had "broken down irretrievably for a period of at least six months immediately preceding," the papers state.
Tom, 50, and Katie, 33, tied the knot in a lavish wedding in Italy in 2006. However, the legal documents say they officially married "in a civil ceremony" in Los Angeles on November 11, 2006. A prenuptial agreement was acknowledged and signed by Holmes months earlier.
Article continues below advertisement
In terms of child support, Tom was ordered to pay $400,000 a year to cover Suri's "medical, dental, insurance, unreimbursed medical and dental, education, college, extracurricular and camp expenses."
Meanwhile, "Tom has been in daily contact with Suri via telephone and Skype. Suri has been telling her dad what she has been learning in school. Katie and Tom are now talking also and are working to co-parent Suri. Tom is hoping to see Suri around Halloween as he has been filming a movie in London," the insider reveals.