That's Awkward! Katie Holmes And Suri Cruise Run Into People Dressed Up Like Them For Halloween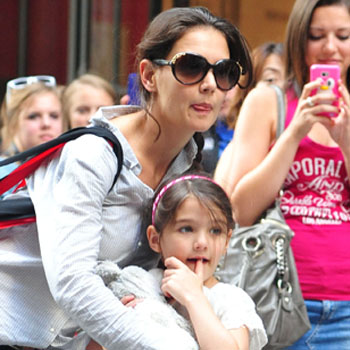 Halloween can be an awkward holiday when you are a celebrity and people dress up like you!
Katie Holmes and Suri Cruise experienced the wrath of being in the public eye during the spookiest holiday of the year while dining in New York over the weekend, when a table of costumed customers sat down next to them – dressed up like the mother and daughter duo as well as Katie's former husband Tom Cruise, according to the New York Post's Page Six, and RadarOnline.com has the details.
Article continues below advertisement
Sources tell the New York Post that Katie and Suri were enjoying a dinner a deux at Mr. Chow Tribeca, when a table of people sat down next to them wearing "Free Katie" and "Save Suri" t-shirts, with a third dressed up as Tom Cruise from Top Gun!
"When they sat down, they exchanged an awkward glance with Katie, but she kept her cool and didn't say anything," the source dished. "The embarrassed Halloween crew quickly covered up the costumes before Suri got a chance to look."