Who Knew? 'Fat' TV Anchor's Brother Is Actor Ron Livingston!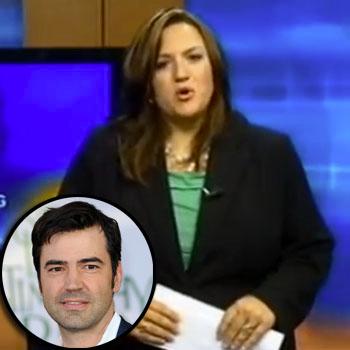 By Adam S. Levy - RadarOnline.com Staff Writer
Actor Ron Livingston, famous for his roles in HBO smash Sex and the City and the cult hit Office Space, issued a statement Wednesday defending his sister Jennifer, the La Crosse, Wisconsin news anchor whose emotional responseto a viewer's insulting letter went viral.
"My sister Jennifer ... brings an exceptional dedication to her job, her family, and her community, and has been a role model of mine for many, many years," said the 45-year-old actor, who played the love interest of Jennifer Aniston and Sarah Jessica Parker in the aforementioned productions.
Article continues below advertisement
As we previously reported, the author of the e-mail, Kenneth Krause, told the WKBT-TV anchor that her "physical condition hasn't improved for many years," and that she shouldn't consider herself "a suitable example for this community's young people, girls in particular."
In wake of the video of Livingston's response going viral, Krause issued a statement to the TV station, and didn't seem too apologetic despite the emotional nerve his initial words struck with Jennifer, a 37-year-old mother-of-three who said she felt bullied by his suggestion.
"Given this country's present epidemic of obesity and the many truly horrible diseases related thereto, and considering Jennifer Livingston's fortuitous position in the community, I hope she will finally take advantage of a rare and golden opportunity to influence the health and psychological well-being of Coulee Region by transforming herself for all of her viewers to see over the next year, and, to that end, I would be absolutely pleased to offer Jennifer any advice or support she would be willing to accept."