Despite Hurricane Sandy, Show Goes On For Late Night Hosts David Letterman, Jimmy Fallon & Jimmy Kimmel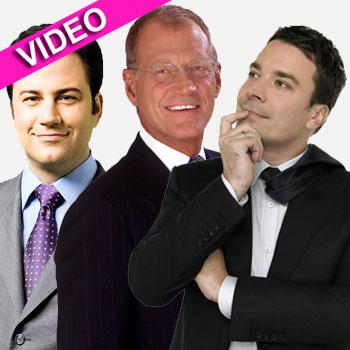 In spite of Hurricane Sandy having battered the East Coast, New York-based late night hosts David Letterman and Jimmy Fallon took to the air second straight night Tuesday, while Jimmy Kimmel (who was previously scheduled to tape in New York this week) also did his broadcast.
All of the funnymen addressed the calamity with class and a light touch.
Letterman Tuesday went without a studio for the second consecutive evening "for safety and security reasons."
Article continues below advertisement
"And so we just do the show here in this big old empty barn in the Ed Sullivan Theater and see what happens," he said. After joking he had to come in having used up all of his sick days, Letterman remarked, "I feel like Clint Eastwood -- an old guy talking to empty chairs!"
Kate Hudson was scheduled but did not appear, leaving Letterman with guests Jim Cantore, an expert on The Weather Channel, and singer Andrew Bird.
Fallon did have an in-house crowd -- and guest Donald Trump -- for Tuesday's episode, where he addressed Monday's awkward audience-less show.
Watch the video on RadarOnline.com
He said, "First off, thanks to our great audience for making it out to the show tonight -- I'm so glad you're here because last night's audience was the worst!"
"I realized how much I missed the sound of laughter and applause. I haven't heard that much silence since Kim Kardashian was asked to say something off camera."
Article continues below advertisement
Fallon joked that "a lot of people don't have access to Facebook or Twitter" and that "a lot of people couldn't get on Instagram, either.
"This morning I had to show a picture of what I ate for breakfast to my cab driver," he said.
Kimmel, who was off the air Monday, returned Tuesday to broadcast from the Brooklyn Academy of Music's Harvey Theater, where he had both a studio audience and a big name guest in Howard Stern.
In his monologue, he opened up about his East Coast roots.
"I was born in Bay Ridge, I grew up in Mill Basin," Kimmel said. "Tonight, I have returned to save my people from the storm.
"Thank you for ignoring the local authorities to be here tonight for our first show -- Mayor Bloomberg will be here shortly to have you arrested."
Stern said he "was begging Jimmy to cancel the show.
"I'm driving along and I'm trying to get here," said the King of All Media, "and I thought, 'Why am I really trying to be here tonight?'"
Article continues below advertisement
Shows that didn't make the air Tuesday included The Daily Show and The Colbert Report, while the hurricane ceased production on NBC hits 30 Rock and Law & Order: Special Victims Unit.