HMS Bounty, Historic Hollywood Ship, Caught In Hurricane Sandy's Fury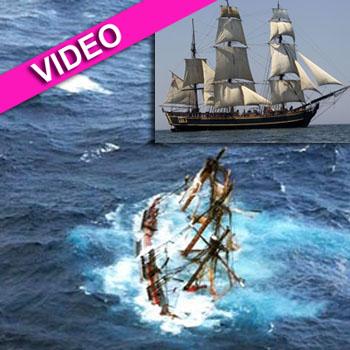 The HMS Bounty, a Canadian-built replica 18th century ship -- originally constructed for 1962's Mutiny on the Bounty but later featured in some of the Pirates of the Caribbean films -- got caught in Hurricane Sandy's fury and began taking on water Monday, forcing crewmembers to scurry into lifeboats off the North Carolina coast.
The U.S. Coast Guard -- by helicopter -- rescued 14 people in rafts in the Atlantic Ocean approximately 90 miles southeast of Hatteras N.C., Monday and spent hours searching for two missing crew members. Tragically, one of them -- 42-year-old Claudene Christian -- was found unresponsive in the water on Monday evening, while the ship's captain, 63-year-old Robin Walbridge, remains missing.
Article continues below advertisement
Crewmembers rescued Monday were taken to the Coast Guard Station in Elizabeth City, N.C. Most of the survivors were in their 30s, although one man appeared to be in his 70s, Coast Guard officials said.
"They were staying in constant contact with the National Hurricane Center," said Tracie Simonin, the director of the HMS Bounty Organization. "They were trying to make it around the storm.
The Coast Guard received a call from the ship's owner late Sunday, saying communication had been lost with the crew. The Coast Guard later received an emergency distress call from the Bounty, confirming its position.
Coast Guard Vice Adm. Robert Parker, Operational Commander for the Atlantic Area, told ABC's Good Morning America that the vessel had taken on about three meters of water when the crew was forced to abandon ship. Winds were reported to be 40 mph winds with 18-foot seas at the time
The HMS Bounty had left Connecticut last week destined for St. Petersburg Florida. The ship has docked off and on over the years at The Pier in St. Petersburg. It was scheduled to arrive there in November.